WakeSurfing
WakeBoarding
Wake-Foiling


Wakeboard & Wake Surfing in Singapore with Absolute Beach Boys: An Unforgettable Adventure
Wakeboarding & Wakesurfing is a thrilling water sport that has gained popularity worldwide. Singapore, known for its vibrant city life and stunning coastal landscapes, offers a unique opportunity to enjoy these adventures. Absolute Beach Boys brings you the perfect opportunity to dive headfirst into the world of wakeboarding and wake surfing in Singapore. With a team of experienced instructors and state-of-the-art equipment, Absolute Beach Boys guarantee an unforgettable experience, especially for first timers who are curious about the sport.
Why Choose Absolute Beach Boys?
Best Wakesurf & Wakeboard Coaching for 1st Timers, Families & Kids (Fur Kids Included) When it comes to water sports, Absolute Beach Boys stands out from the crowd. Here's why you should choose us for your wakeboarding and wake surfing adventures:
Experienced Instructors: Absolute Beach Boys boasts a team of highly skilled and experienced instructors who are passionate about sharing their expertise with beginners and seasoned riders alike. They will guide you every step of the way, ensuring your safety while helping you unlock your full potential.

Most Updated Equipment: With Absolute Beach Boys, you can leave your worries behind as they provide most relevant wakeboarding and wake surfing equipment. From boards and bindings to safety gear, they have it all. You can trust their gear to deliver the performance you need for an exhilarating ride.

Locations: Singapore is blessed with beautiful coastlines, and Absolute Beach Boys knows exactly where to take you for the best wakeboarding and wake surfing experiences. They have scouted the most picturesque spots that offer ideal conditions for an adrenaline-packed adventure.

Customized Sessions: Whether you're a complete beginner or an experienced rider looking to polish your skills, Absolute Beach Boys offers customized sessions tailored to your abilities and goals. They ensure that every participant receives personalized attention, making sure you make the most out of your time on the water.
Frequently Asked Questions (FAQs)
Q: What is wakeboarding?
Wakeboarding is a water sport that involves riding a specially designed board over the surface of the water while being towed by a motorboat. It combines elements of surfing, snowboarding, and water skiing to create an exhilarating and acrobatic experience.
Q: What is wake surfing?
Wake surfing is a variant of wakeboarding where the rider surfs the boat's wake without being towed. Instead of using a rope, wake surfers ride the wave generated by the boat, making it a thrilling and dynamic sport.
Q: Is wakeboarding suitable for beginners?
Absolutely! Wakeboarding caters to all skill levels, including beginners. With the guidance of Absolute Beach Boys' expert instructors, even first-timers can quickly get the hang of it. They provide comprehensive lessons that cover the fundamentals, ensuring a safe and enjoyable experience for everyone.
Q: What equipment do I need for wakeboarding?
To enjoy wakeboarding to the fullest, you'll need a wakeboard, bindings, a life jacket, and a tow rope. Absolute Beach Boys takes care of all the necessary equipment, so you can simply show up and get ready for an amazing ride.
Q: Can I bring my own equipment?
Certainly! If you have your own wakeboarding or wake surfing equipment, feel free to bring it along. However, if you don't have any gear, Absolute Beach Boys has you covered with their top-quality equipments.
Q: Is wakeboarding safe?
Wakeboarding, like any other sport, comes with some inherent risks. However, with the guidance of expert instructors and adherence to safety protocols, Absolute Beach Boys prioritizes your safety throughout the entire experience. Rest assured that you'll be in good hands.
Conclusion
If you're seeking an adrenaline rush, an escape from the ordinary, and a chance to conquer the waves, wakeboarding and wake surfing in Singapore with Absolute Beach Boys is the perfect choice. Their experienced instructors, top-notch equipment, and stunning locations ensure an adventure that will keep you coming back for more. So, what are you waiting for? Grab your board and get ready to ride the waves with Absolute Beach Boys!

Featured Instructor
Absolute Beach Boys P/L
Available for both wake surf, wakeboarding & wake foiling on Large boat (Mastercraft Xstar 23ft), cast off from Marina Country Club.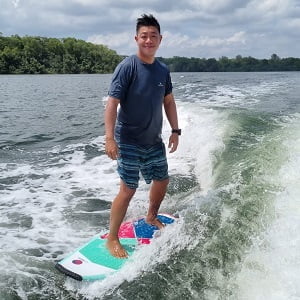 Featured Instructor
Absolute Seven P/L
Available for both wake surf, wakeboarding wake foiling on X-Large boat (Nautique 230 23ft), cast off from Marina Country Club.
We are striving to create more lifestyle events for all customers to enjoy the waves.
Get foiling behind our boats with a hydro foil surf board. Feel the speed and ultra fine control while riding it above the surface of the ocean!
( Now Available )
Charter a yacht out with your family and friends to enjoy the Sea , Sun and Sand.
( Coming Soon )
Find us at the following address:
11 Northshore Drive,
Pier 5, Singapore 828670